And it was just the beginning. This happened couple of months ago.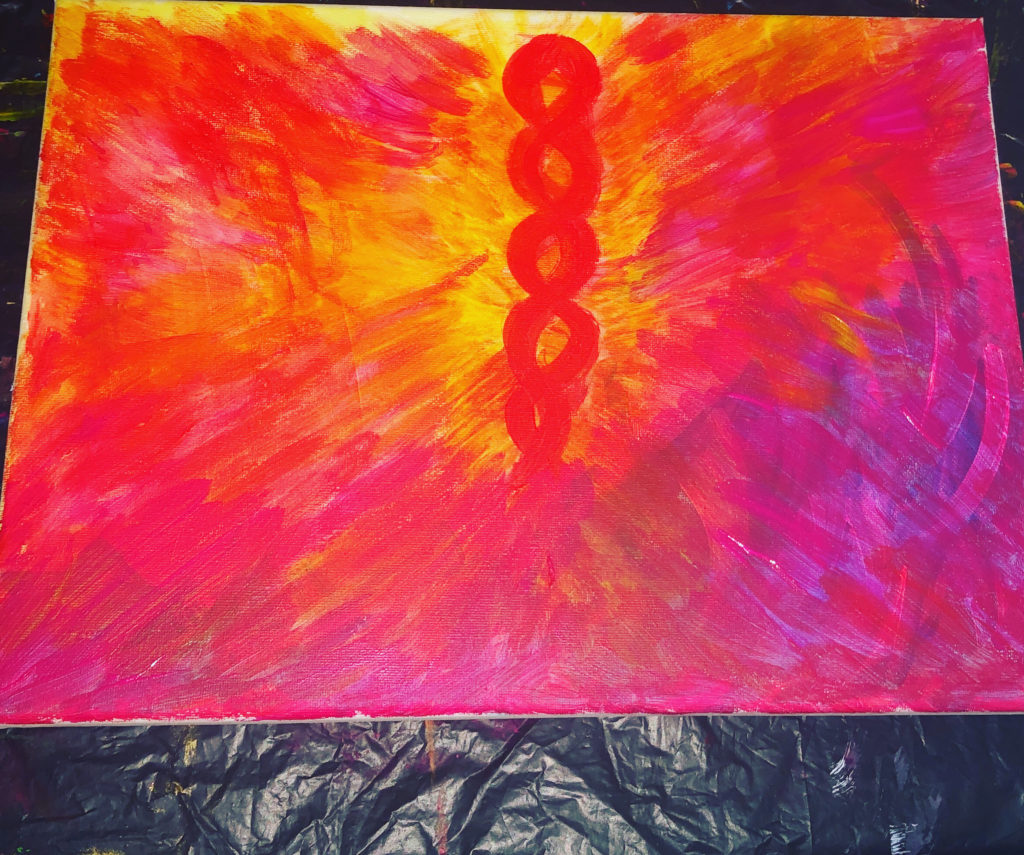 In the morning I did a shamanic journey. This is a journey done by a Shaman.
The evening before I already did my first shamanic jouney.
In both journeys there came an Animal Spirit with a message for me.
The first one was ladybug and the next journey in the morning was a serpent.
I will explain here more about the serpent journey.
The Animal Spirit Serpent showed itself to me. And first I thought, a snake? Ok.
Then I surrendered and the serpent spiraled around my body.
It gave me a safe feeling. Letting me know that I was save.
After the journey I meditated and channeled on the meaning of the Serpent. The serpent had the message of shedding the old skin and of wisdom and transformation and transmutation.
And this message came after I did a lot of healing this week.
I completely felt resonance with shedding the old skin, because I was removing and releasing a lot of old stuff.
After the shamanic journey I was guided towards an Emotion Code session.
Because I can do it myself as a Certified Emotion Code Practitioner I already released everything, what my subconscious wanted to release.
Now it was months ago since I had trapped emotions to release.
But after the journey there were a couple of preconceptional and inherited emotions to release. I released them all.
After that I always have to move my body. You release a lot of energy in your body from the trapped emotions. So now the energy has to set again.
So I put some music on and danced. I always do a sort of exctatic dance, where I move my body as the way my body wants to move to the music and ritm. And it always frees your body completey.
Then I went to meditate and asked what the next right step to take is.
For months now I totally surrendered to Divine. I ask every moment what is best to do then. I ask for guidance and follow that guidance.
The Personal Identity self is put away and completely surrendered to the Higher Self, to Divine, to what is Divine's Masterplan for me.
Then I was guided to do a cardreading.
I've got the cards ''Initiation'' and ''awakening''. And right after I've read the meaning of the cards, where it was about Kundalini awakening, it started in my body. In the cards said to put the hand on your heart and read the text out loud ''I am ready for the kundalini energy to rise up in my body.''
And I felt it immediatly. It began.
It was like I never felt before.
Normally I talk about getting tantrical orgasms the whole time, also called energy rushes. But they come from the head, crownchakra and then down.
And this came from the rootchakra upwards. It came in shifts, in energyrushes up and in shocks. There was also a moment when very slowly a warm tingling feeling came up from the spine up. But It stopped around the heart /shouldersarea.
It lasted a while, the orgastic moments. The energy rushes came again and again and filled my whole body up in the spine till the crownchakra.
Everything was warm and I felt my crownchakra fully open. The same when I do channelings and meditating.
After a while I got dizzy in the head and I felt completely energized. But so much energized that I got fired up and got heart palpiltations, shortness of breaths and tightness.
And after I while I got so hot. My neck and head looked like on fire.
The rest of the day my body felt weird. Also tired.
It felt like a lot happened in my body. It was a lot to take in.
I went to bed really early in the evening.
This all was just the beginning!!
And I know why it stopped, because right after it, I had to go outside and pick my little girl from Preschool. So my mind was, ''shit I have to go now.''
I asked guidance if I could stand up, but I get keeping no. After a while I could and went outside. I was dizzy and shortness of breath, but I got there in time.
I felt like a took some harddrugs. I had a full energyrush but was out of breath, like I ran a marathon before.
And then I was at school and felt more grounded again.
The next day my guidance told me to dance a lot and sing to move my body. Get the energy moving in my body and also to sing to free up the throatchakra.
Because yesterday the energy stopped at my heartcenter.
After dancing and singing I meditated a lot and nothing happened.
Then I did a shamanic journey again. And in the beginning they said that I have to welcome myself and that I am worthy. So I focussed on that, said that out loud and felt it in my body.
And then the kundalini rised up twice through my whole body up to the crown.
Then the Shamanic journey really began and when the shamanic drums and windwhistle began, the next kundalini rising again through my whole body and up to the crownchakra.
I felt exctatic and High again, but still completely balanced, aligned and grounded. Better then drugs and sexs and whatever. These are other highs. Highs that go so deeply, so intens. So the best of the best. No normal body orgasm or whatever comes near these orgasms. It its like the world is with you. So much power and energy. I can't describe it. It is heavenly. So much energy and aliveness. So much Love and Joy. It is everything. It is oneness, wholeness, completeness. Everything!!
Wow
And it still is just the beginning!!! I am so ready and feel so blessed!!!!!
After that moment now months later, everyday I have those energyrushes. And mostly just before it happens, I see a vision of the serpent and then the kundalini shoots right up through all chakras again through the crownchakra.
My guidance told me for weeks that I could not workout anymore. So much happened and happening in my body, that I had to take more rest. Still do.
I have a lot of energy, but still I have to take some extra care for my body.
A lot have happened in a short of time.
Much Love,
Jamie
Do you have had an experience of kundalini-awakening? Let me know. I am curious about others. Do you need help releasing old emotional baggage so that you can live more freely and happier and ofcourse living more healtier and more abundant. When you release all the blocks that are sabotaging your natural flow, everything in life is much more difficult. Do something about it. It can go very easy away with emotion code sessions and removing your heartwall to open up to life. You don't have to dive deep into the emotions and we can work at distance by telephone or chat. Send an email to jamievousten@gmail.com or look for more info here.